How Fixed Dental Bridges Can Restore Your Smile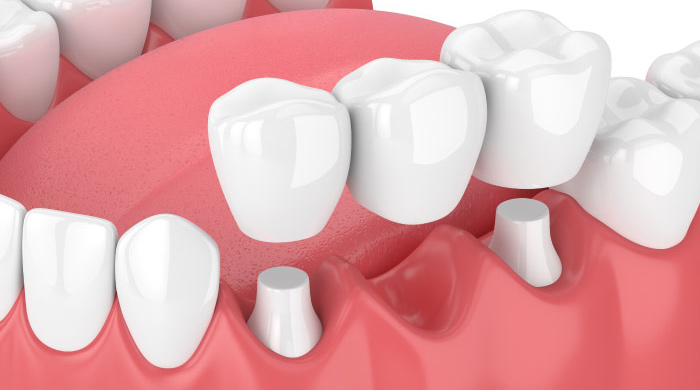 Is a missing tooth or two stopping you from loving your smile? At Dental Solutions of Avon, we believe that everyone should have the confidence to show off their pearly whites! One of the ways you can go from a smile with gaps to a smile that's complete is with a fixed dental bridge. Here's what you need to know about this common dental procedure:
The Basics of a Fixed Dental Bridge
A dental bridge gets its name because it acts as a bridge between the two teeth on either side of your gap. The bridge appliance itself has a crown on either side that attach to these two neighboring teeth. Then, in the middle of that, are the artificial teeth that are specifically designed to match the rest of your smile.
Depending on your needs, we can fix the dental bridge in place by putting dental crowns on top of your natural teeth or we can place implant-supported crowns.
Dental Bridges Procedure
The first step in getting a dental bridge is preparing those neighboring support teeth, also called the abutment teeth. As mentioned previously, that either means taking impressions to design and fit dental crowns on them or it means placing dental implants. We can provide you with a temporary bridge to wear after this preparation stage until your permanent bridge is created.
Once we have your permanent dental bridge, we'll bring you back to remove the temporary and place this one. During this appointment, we'll ensure that everything fits properly and feels comfortable. Now you can enjoy your new, full smile!
Contact Us for a Consultation
Are you interested in getting a fixed dental bridge? Dental Solutions of Avon can help with that! We'd love to have you in for a consultation to discuss how a dental bridge might be able to benefit you. All you have to do is call or email our practice to set up your in-office consultation.
Contact Us
---