Our cosmetic dentistry services and dental procedures allow our patients to correct or conceal almost all aesthetic flaws, such as crooked, chipped, or discolored teeth! View our cosmetic dental services below to learn more!

Before
After
KoR Whitening
KöR® teeth whitening combines an in-office treatment with at-home maintenance to give you stunning whitening results. Many patients will see lightening of up to 16 shades or more by the time the entire process is complete! Even if you haven't had success with other whitening brands, we think you'll love the results that KöR can give you.
Crowns & Fixed Bridges
Dental crowns are often called caps. They cover teeth to restore them to their appropriate shape and size after large fillings, fractures, or weakening forces such as intense grinding. They can also be used to:
Attach a bridge
Cover dental implants
Restore seriously discolored or misshapen teeth
Serve as a preventive measure to protect a tooth in danger of breaking
In all these cases, crowns not only cover teeth but provide added support as well.

Crowns can be made of all-porcelain (ceramic) material, porcelain fused to metal, gold alloys (high noble), or base metal alloys (non-noble). Each of these restorative materials has its advantages and disadvantages. Porcelain crowns most closely mimic natural tooth appearance, which is one of the reasons we prefer them. To save you valuable time, we can place crowns in only one visit using the CEREC® system. Plus, CEREC Emax® crowns have strength and durability similar to metal crowns!
If a tooth is so decayed or damaged that it needs to be removed, the best alternatives to crowns are bridges or dental implants because they replace teeth. Dental bridges do exactly what their name implies: bridge gaps left by one or multiple missing teeth. The two teeth on either side of the gap to be bridged serve as anchor teeth, also called "abutment teeth." Each anchor tooth has a crown that attaches to the false tooth/teeth of the bridge. Dental bridges can be supported by natural teeth with crowns on top, or by implant-supported crowns.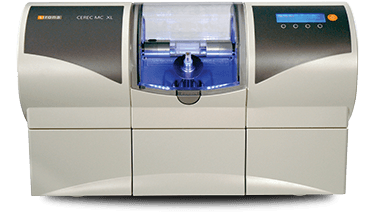 CEREC® One-Visit Crowns
Normally it takes 2 or 3 visits to get a dental crown, but the CEREC® system allows us to create and place crowns in just one appointment! With CEREC® we can provide you with a long-lasting, comfortable dental crown in an efficient manner so you can spend less time at the dentist and more time enjoying your restored smile.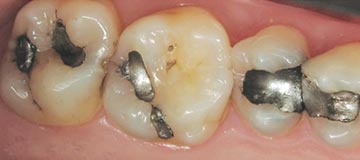 Before
After
Tooth-Colored (Composite) Fillings
Composite fillings, often called "composites" or "filled resins," are a mixture of quartz or glass filler in a resin medium that makes a tooth-colored dental filling. The material is cured with a special light and the surface is shaped and polished, so the end result is a virtually undetectable restoration that feels natural in your mouth.
Composites are strong and durable. Additionally, because these fillings are bonded to teeth instead of mechanically held in place, the process is more conservative in relation to tooth structure and more healthy natural tooth remains. This results in smaller fillings.
Veneers

Before
After
For a Hollywood smile, try dental veneers! With custom, thin sheets of porcelain, we can fix any teeth that are chipped, broken, misaligned, or discolored. The great part about this cosmetic treatment is that you can decide exactly how you want your smile to look, and the results are permanent.