For a life-changing smile makeover, try porcelain veneers! Veneers can totally alter the appearance of your smile to give you the smile of your dreams. After consulting with you about your treatment options and showing you digital smile preview images, one of our dentists will create a model based on the smile makeover look of your choice. We will send the model to a dental technician in a lab who will then make your actual veneers with biocompatible, durable, tooth-colored materials that will look and feel natural in your mouth, and that will last for years.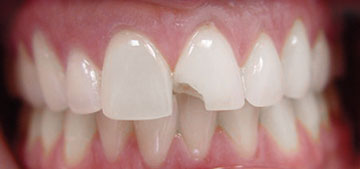 Before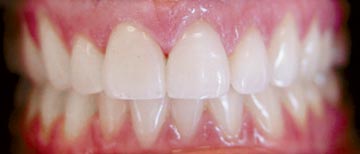 After
How Do Veneers Work?
Veneers are thin, custom-made casings applied to the front side of teeth to change their shape, color, or general appearance in practically any way you desire. When veneers are applied, a small amount of tooth enamel usually needs to be removed to fit the veneers onto the teeth. For this reason, veneers are typically an irreversible treatment so it is important to be prepared for a permanent improvement in the look and feel of your smile.
How Can Veneers Change Your Life?
Life is more beautiful when you have the confidence in your smile to let it show. Studies have indicated that a healthy and attractive smile can raise self-esteem, leading to improved personal and professional relations and better first impressions on others. If you spend your time trying to hide your teeth, ask us how porcelain veneers could give you the confidence to smile big!