Stress Free Dentistry for Kids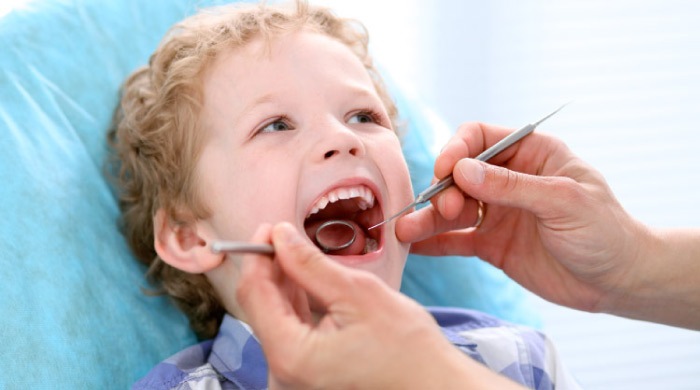 We want your children to have a positive experience each time they visit us at Dental Solutions of Avon. This is why we strive to offer stress free dentistry for kids. We understand that a visit to the dentist can cause anxiety for some of our young guests, especially those who are visiting us for the first time. Here are some suggestions to make things easier for you and your children.
Exhibit a Positive Attitude
This starts with you! Don't just talk about how important it is to visit the dentist and maintain good oral hygiene habits, exhibit them yourself. Talk positively about your visits to the dentist and answer your child's questions. (Of course, you'll want to avoid using words like pain, drill, shot or needle that might create anxiety). Remain calm if your child becomes upset. Your steadiness will reassure your child.
Prepare in Advance
Put the appointment on the calendar and regularly remind your child about the upcoming visit. It's easier to handle something new or different if it doesn't come as a surprise. Treat your visit as an "exam" and do a little studying with your child. Type "going to the dentist" or "visit the dentist" in the search engine at your local library. You'll find there are many good children's stories to help them learn through the experiences of their favorite characters like the Berenstain Bears, Dora, Daniel Tiger, Little Critter and more. You can also do some pretending with dolls or animals.
The Day of the Appointment
We recommend that you plan to arrive a little early so there's none of the stress associated with rushing around. Bring a favorite toy if necessary. You might want to allow your child a special reward associated with visits to the dentist, like a trip to a favorite play space. Let them know that our Indianapolis dentists are warm and welcoming. We enjoy working with children and we'll use a variety of methods, including pictures and demonstrations of instruments to communicate with them.
Stress Free Dentistry for Parents Too
We offer conscious sedation if it's necessary to keep your child calm during the visit. This might be nitrous oxide (laughing gas) or oral conscious sedation, depending on your child's needs. We also don't want you to worry about paying for the treatment your child needs. We offer affordable, high-quality care with many payment options, so call us today to schedule an appointment.
Contact Us
---