Over the years, we have seen that many of our patients have similar questions when it comes to their dental visits and oral health. We have compiled some of the most frequently asked questions together for you to read. Just click on a question to view the answer!
If your question is not answered here, please feel free to contact us. We're here to help!
What is "comprehensive dentistry"?
Our aim is to pinpoint any concerns and issues and resolve them before any become a dental emergency. (Nobody likes a toothache or broken tooth, especially since they never happen at convenient times!) Dr. Weida wants everyone to have healthy, stable teeth and attractive smiles. This means that we see patients for many reasons with many different needs.
Our services range from routine preventive care to life-changing restorative and cosmetic treatments, so we have something to offer everyone to address their personal concerns and needs. The second half of this equation is the development and fulfillment of ongoing maintenance plans. This minimizes the chance of original problems reoccurring. We will do everything we can to customize your maintenance plan based on your individual situation.
Maintaining good oral hygiene at home is important, but man cannot live by toothbrush alone. In-office dental exams are critical to keeping your smile clean and healthy. At Dental Solutions of Avon, our team has the ability to remove plaque that your toothbrush can't, which in turn reduces your risk of tooth decay and gum disease. We also use X-rays and our intraoral camera to monitor structures that aren't so obvious to the naked eye. In a way, "comprehensive" care really refers to our commitment to the present and the future of your smile. Not only do we want to keep it healthy, we want to make it beautiful, and make it last.
What is "biocompatible dentistry"?
Biocompatible dentistry is based on a conservative, holistic approach to dental care. It involves recognizing and understanding how certain dental materials can affect a patient's entire wellbeing (not just their oral health). That includes choosing to use safe, non-toxic materials during treatment. For example, a biocompatible dentist would provide composite, ceramic, or porcelain fillings rather than amalgam (silver) fillings.
How long should I expect my first visit to be?
Not all first visits to Dental Solutions of Avon are the same, but we typically schedule 90 minutes for a new patient appointment. This time is reserved exclusively for you to ensure that in addition to your X-rays and teeth cleaning with your dental hygienist, there will also be sufficient time for a thorough examination and consultation with Dr. Weida. If you have questions, whether they be general or specific to a treatment you're interested in, you will be able to ask them without feeling rushed. We make time to listen, which is especially important for people who have dental anxiety.
If you have scheduling constraints on the day of your appointment, please let us know. When we're aware of your needs as our patient, we're better equipped to meet those needs and exceed your expectations.
Do you see children?
A smile of a pediatric patient is one of our favorite things! We welcome children of all ages at Dental Solutions of Avon, and we are here to help children with special needs have positive, rewarding dental experiences. We know how important your child's health and self-esteem are to you, and we want you to know that they're priorities to us as well.
Why do I have to pay an out-of-pocket fee when I have dental insurance?
Insurance plans vary greatly in coverage as well as benefit explanations, and we know it can get confusing sometimes. Most plans cover basic preventive care, but for coverage questions beyond that, we will research and consult with you about the specifics of your plan based on the information provided to us by your insurance.
Some plans have a copay that is due at your appointment, some insurance covers up to a certain dollar amount for particular treatments but leaves the remaining portion to you, and some coverage amounts are determined on a percentage basis with a fixed percent being "covered." The vast majority of dental insurance plans don't cover 100% of many treatments. Prior to scheduling treatment, we will provide cost estimates broken down by projected insured and uninsured costs so you can plan accordingly.
Depending on the treatment you come to us for, your medical insurance may also apply. We file medical insurance claims for some oral surgery, TMJ therapy, and gneuromuscular dentistry treatment to relieve TMD and when we treat for obstructive sleep apnea.
Please contact us about your insurance so we can help you maximize your benefits.
Do you offer payment plans?
We offer patient financing through CareCredit® to make it easier for you to fit quality dental care into your budget. With a CareCredit payment plan, you can finance 100% of your treatment. Better still, there are no upfront costs, pre-payment penalties, or annual fees.
You can fill out the easy application process on the CareCredit website, and you'll receive a credit decision quickly. You can also contact us to learn more about CareCredit, or to ask about your other payment options (of which there are several).
Are X-rays safe, and are they necessary?
We want to reassure you that Dr. Weida and his team at Dental Solutions of Avon are committed to looking after your overall health and safety. We always take all the necessary precautions to make sure our office is a safe place for you to receive dental care.
Over time, traditional "film-based" X-rays have changed to emit less and less radiation. But we go a step further and use digital X-rays with computer-enhanced sensors that further minimize the radiation emitted when taking high-quality images. With this state-of-the-art technology and the lead aprons we give patients to wear while X-rays are being taken, we can confidently say that dental X-rays are indeed very safe. In fact, since there are many dental problems that can't be detected during a visual examination, we believe you're actually much safer with these X-rays than without them!
We understand that people have personal preferences when it comes to X-rays, especially patients who are pregnant or who have specific health concerns that require additional consideration. Whenever possible, we respect your wishes regarding whether or not to get X-rays taken. If we make a recommendation for X-rays to help us plan the best course of treatment and you wish to opt out, we will have you or your guardian sign a waiver. Please understand that there might be some instances in which we might not be able to provide further treatment without this instrumental diagnostic tool.
What do I do if I have dental emergency?
At Dental Solutions, we go out of our way to see patients with dental emergencies as soon as possible. Please call us promptly so that we can bring you in and help you find relief quickly.
If you call our office after hours with a dental emergency, you'll be directed to a dedicated emergency line. Simply leave us a message, and we'll return your call promptly. If the trauma of your emergency is severe or if you are bleeding heavily, call 911 right away.

Broken Tooth. With recent advancements in restorative and cosmetic dentistry, it's possible that we can save your tooth if it is broken. If there's enough remaining healthy tooth structure, we can create a dental crown that will "grab onto" your natural tooth, eliminating the need for root removal. While the success of this process, known as "crown lengthening," depends on the severity of the break, it's worth asking about before deciding on completely removing the tooth.

Knocked-Out Tooth. If your tooth has gotten knocked-out, find the tooth and, holding it by the crown only, rinse it briefly with warm water. If possible, gently reinsert the tooth into the socket and bite down on gauze or cloth to keep it in place. If you cannot reinsert it, place it in a cup of milk or salt-water (this keeps the root alive). It's important to then see us as soon as possible. If treated within 2 hours, the tooth may be saved.

Soft Tissue Injuries. Soft tissues, such as gums, cheeks, lips, and the tongue, tend to bleed heavily because the tissue contains a great deal of blood flow. To control the bleeding, first rinse with a warm, mild saltwater solution. Apply pressure with gauze or a moistened towel for 15 to 20 minutes. To reduce swelling and help stop residual bleeding, apply a cold compress to the outside of your mouth. In the event of a serious soft tissue injury, in which the bleeding is heavy or the damage is visibly traumatic, it's best to stay calm, keep applying pressure, and go to the emergency room.
How can I tell if I have gum disease?
Some of the most common signs of gum disease are tender, sore, red, or swollen gums. Other warning signs include gums that bleed a lot after flossing, receding gums, pain or sensitivity in your teeth, loose teeth, and persistent bad breath.
Gum disease ranges from gingivitis to the various forms of the more serious periodontitis. It's important that you come see us if you notice any of these gum disease symptoms so that we can treat your as soon as possible before it becomes more serious. You should also visit us every six month even if your gums look and feel great, so we can make sure they stay that way.
If my filling is still in place and my tooth doesn't hurt, why does my dentist want to replace it?
While we are always striving for perfection, there is unfortunately no perfect dental filling that will last forever. Fillings can actually change shape because of the harsh environment they're exposed to in the mouth with pressure from chewing, clenching, or grinding. All of this causes fillings to wear away, chip, and even crack. Remember that pen you were biting earlier, or that cold ice you were munching on? Using our mouth both for what we're supposed to—and what we're not supposed to—puts our fillings to the test!
When the seal between a filling and the tooth enamel breaks down, that's when decay-causing bacteria can make its way under the filling. Left unchecked, this decay can progress to deeply infect the tooth, potentially causing an abscess and even tooth loss. Yikes! If we recommend replacing a filling now, we're only trying to save you from future pain and additional treatment expenses that could be completely avoided by being proactive. We truly have your best interests at heart.
Are CEREC® crowns as good and long-lasting as traditional dental crowns?
Great question. We say yes! The metal-free, all-ceramic material we use for crowns made in our CEREC milling machine is part of the IPS e.max system by Ivoclar Vivadent. This system has proven itself time and again after over 40 million bio-friendly restorations, 10 years of clinical evidence, and high crown "survival rates." Results from 20 different clinical studies, representing more than 1,000 restorations, were compiled, and the resulting overall success rate for the IPS e.max system was 97%! We think that you and your smile deserve this kind of success.
Why do some wisdom teeth need to be removed?
Wisdom teeth don't always come in properly, and when that happens, they can cause serious problems. Some grow in at the wrong angle or some can get trapped under the gums, also known as "impacted". This can cause pain and also infection.
Other issues involved with wisdom teeth that come in improperly include crowding (which makes your other teeth shift and become crooked), cysts that develop on the jaw, bone loss, and damage to adjacent teeth.
Wisdom teeth usually come in between the ages of 15 and 25, so we encourage people in that age range (and their parents) to be aware of possibly pesky wisdom teeth and the trouble they tend to cause. If your wisdom teeth are coming in now, we are also happy to examine them to let you know if they are coming in properly or not.
Am I a candidate for dental implants?
Missing teeth and looking for a solution? We consider you a candidate for dental implants! The next step is to schedule a convenient consultation with Dr. Weida to see if you're an ideal candidate.
There are some important things you need to consider before deciding on this life-changing treatment. For example, dental implants are best placed after adolescence, when the teeth and jawbone are fully developed. Additionally, dental implant placement can be more complicated for individuals with periodontal (gum) disease, active diabetes, and immune deficiencies, and for those who use tobacco products.
Dr. Weida offers people who desire dental implants the amazing benefit of 3D X-rays and imaging integrated with special CAD/CAM software and computer-guided treatment equipment. Using this leading-edge technology, we can plan procedures digitally so that when we perform the actual treatment, it is amazingly precise because we have gone through the specifics virtually. This makes the benefits of dental implants available to more patients by making treatment a safer possibility with high chances of success.
I have recurring pain where my jaw meets my temple, and sometimes my jaw clicks or locks up when I chew. What's the problem?
It sounds like you're suffering from temporomandibular joint disorder, also known as TMD for short. This disorder affects the flexibility and function of the temporal jaw joint and surrounding muscles. In addition to its far-reaching negative effects, such as severe pain, it can also result in lower feelings of overall well-being and quality of life.
With his passion for balancing the science and art of dentistry, Dr. Weida can help people find long-term pain relief from TMD and bite misalignment with gneuromuscular dentistry at his dental practice in Avon.
Gneuromuscular dentistry combines TMD therapy, restorative dentistry, and orthopedics (which deals with correcting certain bones and muscles) to bring comfort to patients, many of whom have been searching for a solution for years.
My spouse's snoring is keeping me up at night. Could it be a dental issue?
If you've ruled out allergies, a cold, or sinus problems, snoring could definitely be a dental issue. Before beginning any treatment, we need to determine the specific cause of snoring. Sometimes, it originates in the central nervous system, but it's more likely obstructive sleep apnea.
Review these signs and symptoms of sleep apnea to get a better idea of the condition your spouse might be suffering from, and contact us to schedule a consultation to learn more about treatment options that will have you both enjoying more restful sleep soon.
How can I fix bad breath?
If you are constantly worrying about bad breath, you're not alone. Bad breath, formerly known as halitosis, is an all too common problem that can be embarrassing and distracting for you and those around you. At Dental Solutions, we can help pinpoint what is most likely causing your bad breath and then help determine what you can do to correct it.
Some common causes of bad breath include reduced saliva flow during sleep (the cause of morning breath), certain foods (such as garlic, onions, and peppers), poor oral hygiene, periodontal (gum) disease, dry mouth, tobacco, dieting, dehydration, and some medical conditions (including sinus infections and diabetes).
If you are not already in the habit, brushing your teeth at least twice a day—in the morning and at night—is the first step to avoid bad breath. Brushing after every meal is even better, if possible. If not, chewing sugar-free gum after meals can get food particles out of your teeth. Toothbrushes should be replaced every couple months. Also, you can clean between your teeth daily with floss or interdental cleaners, and remember to brush your tongue. Brushing your tongue, especially the back areas, can make a big difference in how clean your mouth feels and smells. If you wear dentures, be sure to remove them at night and clean them thoroughly before replacing them the next morning.
Breaking a tobacco habit (smoking or chewing tobacco) can significantly improve your oral health and the way your breath smells. Ask us about ways we suggest to help break a tobacco habit. Drinking plenty of water and eating healthy also keeps your mouth moist and free of bad bacteria. Mouth rinses can help, too, but ask us which rinses actually kill the germs that cause bad breath, because some only mask odor as a temporary solution.
Biannual dental cleanings and checkups at our office will not only keep your teeth and gums in good shape, but seeing you regularly will also allow us to better detect any problems, such as gum disease, dry mouth (xerostomia), or other dental conditions, such as decay, that may be the cause of persistent bad breath. If you have gum disease, more frequent visits to our office might be recommended for your oral and overall health.
When bad breath is a symptom of a larger bacterial problem in your mouth, we can help. If Dr. Weida finds that your mouth is healthy, we may refer you to your physician for further consultation and more comprehensive treatment.
What causes tooth discoloration?
The two main types of tooth discoloration are extrinsic (external or surface stains) and intrinsic (internal stains). External stains affect the outside of the tooth, while internal stains discolor a tooth from within. External stains can be attributed to anything that comes into contact with the surface of the teeth, such as red wine, coffee, tea, or tobacco products. Internal discoloration reflects the actual condition of the tooth, often occurring as a result of treatment procedures, exposure to excessive amounts of fluoride (fluorosis), and certain antibiotics.
Some types and degrees of discoloration respond well to whitening methods, while others require veneers, bonding, or other restorative procedures. We can determine which type of stains you have and which whitening method will work best for you.
Please feel free to contact us with any other questions!
How should I take care of my teeth at home?
We like to keep things as easy as possible. You should brush at least twice a day, floss once a day, and also rinse with mouthwash if you can. In addition to that at-home routine, you should also drink plenty of water, eat a balanced diet, avoid tobacco products, and choose sugar-free varieties if you chew gum to maintain optimal oral health.
It's generally recommended that you come see us every six months, or more frequently depending on your individual oral health needs. When you take good care of your teeth, they'll be there for you for years to come!
How do I choose the right oral hygiene product for me?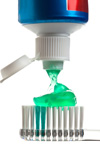 Toothpaste. When it comes to toothpaste, always check for the ADA seal of approval. Despite the large variety of toothpastes available at stores, most of these contain similar agents geared toward scrubbing, flavoring, or keeping your paste moist. It's a good idea to choose a paste that contains fluoride, which strengthens enamel and makes teeth less prone to decay. Tartar-control toothpastes usually contain fluoride, but they also contain chemicals to break down plaque and antibacterials to kill lingering germs. After checking those off, choose your paste based on your personal needs. Whitening varieties have added abrasive agents (not bleach) that polish the surfaces of your teeth without damaging enamel. If you have sensitive teeth, certain toothpastes provide chemical compounds that, when used on a routine basis, can reduce sensitivity over time.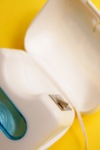 Floss. While most people brush the recommended two times a day, flossing often gets placed on the back burner. However, neglecting to floss at least once daily is doing your mouth a serious disservice, as up to 50% of plaque accumulation occurs between teeth. That's why you should floss before you brush, to loosen up that plaque for easier removal with your toothbrush. If you find flossing too difficult or unpleasant, you can try using a flosser. They're reusable, use disposable heads, and have handles just like toothbrushes, so they make flossing as neat and easy as brushing your teeth. You can find them at most grocery and drugstores.