Would you like a straighter smile in only six months? Using the extraordinary Six Month Smiles® braces program, our dentists can outfit patients with accelerated braces that gently reshape and reposition teeth. Available in clear and white, Six Month Smiles are a great choice for teens and adults who prefer a straighter smile without the hardware of traditional braces.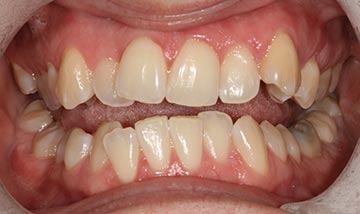 Before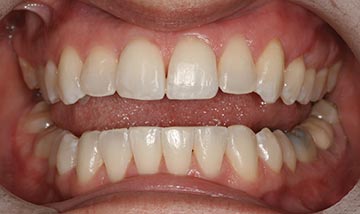 After
Benefits of Six Month Smiles® for Teens and Adults
Not only is this orthodontic treatment more affordable than other teeth-straightening options, but we also offer payment plans as well. With flexible financing, you can pay across installments as low as $100 a month! Beyond affordability, there's so much more to love about Six Month Smiles, including:
Safe treatment process
Comfortable appointments with personalized patient tray kits
Low-force teeth repositioning
Barely noticeable white or clear braces
Less sensitivity than traditional braces
Usually only one appointment per month
Six Month Smiles® FAQs
Need more information before you decide to go ahead with Six Month Smiles? We've compiled a list of the most frequently asked questions to help future patients decide if this treatment is right for them. If you have any more concerns, please call our Avon office, and we would be more than happy to discuss it further! Just click on a question below to expand the answer and learn more about this life-changing orthodontic option.
How can teeth be straightened in only six months?
By focusing on the teeth that show when you smile and not making significant changes to your bite, we can safely straighten teeth in an average treatment time of six months. Another key component of the Six Month Smiles system is the use of special nickel titanium wires.
Six months sounds good, but will I still have a mouth full of metal?
No! Six Month Smiles uses white (tooth-colored) or clear braces that are barely visible. People will hardly notice that you are wearing braces during treatment, but they will notice your straight, more attractive smile afterwards!
How are Six Month Smiles braces more comfortable than traditional braces?
Six Month Smiles is a low-force, teeth-repositioning method. Many people mistake the accelerated treatment time to mean that we simply tighten regular braces to get the teeth moving, but that is not true. Six Month Smiles utilizes standard orthodontic mechanics but with an emphasis on the cosmetic appearance of teeth rather than bite position.
Do Six Month Smiles braces damage the teeth, roots, or gums?
There are no more risks of root damage or other issues than those associated with traditional orthodontics. Since the forces used during Six Month Smiles treatment are lighter and teeth are seldom extracted, there are actually fewer risks involved with Six Month Smiles.
Will I have to wear a retainer?
Yes, as with any teeth straightening treatment, a retainer is necessary to maintain (or "retain") the new, straighter position of teeth. If you prefer not to wear a removable retainer, you can have a bonded retainer placed. Ask us about your options.
What's the catch?
No catch! If you are an adult (15 years or older) with crooked or spaced teeth and not looking for a major alteration to your bite, this could be the perfect solution for you! Most adults are candidates for Six Month Smiles. We want to help the community of Avon, Indiana get picture-perfect smiles, so if you're wondering if you qualify, just give us a call!